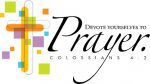 The Spirit of Fear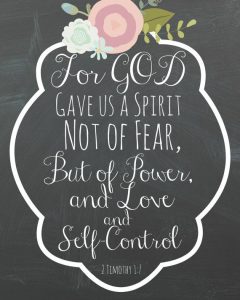 August 23, 2017
The Spirit of Fear
2 Timothy 1:7 For God hath not given us the spirit of fear; but of power, and of love, and of a sound mind.
Lesson Objective: To know and understand Satan's demonic devices that is used in conjunction with the spirit of fear to torment God's people. Also, to learn how to acknowledge, confront, combat and, overcome the spirit of fear through the power of the Holy Spirit, God's perfect love and sound mind (peace).
Lesson Introduction: We all have had or have a fear of something in our life. Some in which may have just been an initial fear that we got over it, quick fast and in a hurry. Others, may have been a fear lingering around us for quite some time, probably from our childhood; for example a fear of clowns. Then, we have those others fears that just really perplexes us and torment our spirit. One of Satan's most popular weapon that he uses against us is fear.
Q&A
Briefly name one thing that you are most fearful of and why?
Some Fear Factors:
Fear of making wrong decisions, rejection, being hurt, judgment, authority, failure, man, darkness, being along, death, demons, witchcraft, heights and other paranoiacs, deliverance, salvation, losing salvation, disapproval, accusation, bring wrong, spiritual gifts, responsibility, commitment relationship/marriage, having children, pain, sickness, insanity, heart attack, crowds, bill collectors, success, the future.
The spirit of fear can brings about horror, panic, fright, sudden fear, terror, dread, shock, apprehension. Why, because it is the spirit of fear job is to torment our lives mentally, physically and spiritually. 1 John 4:18 There is no fear in love, but perfect love casteth out fear; because fear hath torment. The spirit of fear does not operate along, it has its two partners in crime manipulation and intimidation to help intensify the torment. John 10:10 The thief cometh not, but for to steal, and to kill, and to destroy.
Satan uses the spirit of fear to attack our minds with fear and worry, until we become so overwhelmed to the point where it begins to torment us. Now, experiencing emotion of fear in small amounts is normal in life, but when we feel submerged with fear, as if the enemy is coming in like a constant flood then this sounds like an attack from the spirit of fear. But know in Isaiah 59:19b it says… When the enemy shall come in like a flood, the Spirit of the Lord shall lift a standard up against him. You have to fight the spirit of fear with the Spirit of the Lord!!!
Some Important Aspects Regarding the spirit of fear:
The prime characteristic of any fear is intense anxiety.
The associated physical symptoms include rapid heart rate, sweating, trembling, fast breathing, muscular tension and weaknesses, butterflies in stomach, nausea, dizziness breathlessness, restlessness, fatigue emotionally drained
Some mental traits that is links with fear are confusion, suspicion, doubtful, weary, paranoid, depressed and suicidal
On a spiritual level it causes one to become distracted, distanced and detached from God. Also to distrust, disbelieve and disobey God's will and ways.
How does the spirit of fear enter into our minds?
Sometimes the spirit of fear can slowly creep in our minds, when we are in a place of uncertainty. Any time that we are in a place of uncertainty we have to do what Proverbs 3: 5 says… Trust in the Lord with all thine heart, and lean not unto thine own understanding. 6 In all thy ways acknowledge him, and he shall direct thy paths.
…or it can come upon us suddenly when we are experiencing some type of crisis in our live. Proverbs 3:25 Be not afraid of sudden fear, neither of the desolation of the wicked, when it cometh. 26 For the Lord shall be thy confidence, and shall keep thy foot from being taken.
The spirit of fear sometimes come in our minds because we allowed it to, due to our negativity thoughts. "Don't nothing good ever happens to me." And so, when the spirit of fear comes knocking at your door you let him in, because you said yourself, "Don't nothing good ever happens to me." Ever met someone was is fearful of just about anything?
Do you know that the spirit of fear can send your soul to hell?
Revelation 21:8 But the fearful, and unbelieving, and the abominable, and murderers, and whoremongers, and sorcerers, and idolaters, and all liars, shall have their part in the lake which burneth with fire and brimstone: which is the second death.
That is why the devil wants us to be so fearful, to bring us down to the pits of hell with him
But God!!! 2 Timothy 1:7 For God hath not given us the spirit of fear; but of power, and of love, and of a sound mind.
Power – (The Holy Spirit) Luke 10:19 Behold I give unto power tread on serpents and scorpions, and over all the power of the enemy; and nothing shall by any means hurt you.
Love – 1 John 4:18 - There is no fear in love; but perfect love casteth out fear: because fear hath torment. He that feareth is not made perfect in love.
Sound mind – Isaiah 26:3 Thou will keep you in perfect peace whose mind is stayed on thee: because he trusteth in him. Philippians 4:7 And the peace of God, which passeth all understanding, shall keep your hearts and minds through Christ Jesus." John 14:27 Peace I leave with you, my peace I give unto you; not as the world giveth, give I unto you. Let not your heart be troubled, neither let it be afraid.
Acknowledging your fear – recognizing that you are fearful for whatever reason) some people hide behind their fear; some people use fear as an excuse to get out of doing something that they were called and purpose to do; some people are just in denial of their fear because they simply don't want to confront and combat their fear; they don't like confrontation and combating with opposition. Psalm 56:3 What time I am afraid, I will trust in thee. 4 In God I will praise his word, in God I have put my trust; I will not fear…
Confronting your fear – the fight is on because the spirit of fear is not going to back down without a fight. So you have to bold enough in the spirit and speak with all the authority that God has given you and tell the devil… Psalm 27:1 The Lord is my light and my salvation; whom shall I fear? the Lord is the strength of my life; of whom shall I be afraid? We need to let fear know that, I am not scared of you!
Combating your fear – 2 Corinthians 10:5 Casting down imaginations, and every high thing that exalteth itself against the knowledge of God, and bringing into captivity every thought to the obedience of Christ; (Fear you can no longer hold you captive to torment you, In the name of Jesus Christ, I cast you down! )
Romans 8:15 For ye have not received the spirit of bondage again to fear; but ye have received the Spirit of adoption, whereby we cry, Abba, Father." The enemy wants us to be bound by fear..
Overcoming your fear – Revelation 12:11a And they overcame him by the blood of the Lamb, and by the word of their testimony: (You got to plead the blood of Jesus against fear)
When confronted with the spirit of fear who's VOICE(S) are you listening to?
Yourself
Other people
Devil
God – Isaiah 41:10 Fear thou not; for I am with thee: be not dismayed; for I am thy God: I will strengthen thee; yea, I will help thee; yea, I will uphold thee with the right hand of my righteousness.
Deliverance from the spirit of fear
Seek God – Psalm 34:4 I sought the LORD, and he heard me, and delivered me from all my fears.
Walk through it – Psalm 23:4 Yea, though I walk through the valley of the shadow of death, I will fear no evil: for thou art with me; thy rod and thy staff they comfort me.
Trust in the Lord –Proverbs 29:25 The fear of man bringeth a snare: but whoso putteth his trust in the LORD shall be safe.
Closing thoughts
Psalm 27:1-6
1The Lord is my light and my salvation; whom shall I fear? the Lord is the strength of my life; of whom shall I be afraid? 2 When the wicked, even mine enemies and my foes, came upon me to eat up my flesh, they stumbled and fell. 3 Though an host should encamp against me, my heart shall not fear: though war should rise against me, in this will I be confident. 4 One thing have I desired of the Lord, that will I seek after; that I may dwell in the house of the Lord all the days of my life, to behold the beauty of the Lord, and to enquire in his temple. 5 For in the time of trouble he shall hide me in his pavilion: in the secret of his tabernacle shall he hide me; he shall set me up upon a rock. 6 And now shall mine head be lifted up above mine enemies round about me: therefore will I offer in his tabernacle sacrifices of joy; I will sing, yea, I will sing praises unto the Lord.
Taught by Minister Geneva Burrus