Pastor Thomas Russell, a native of Chicago, Illinois moved with his family to Phoenix, Arizona in 1974, where he completed his primary and high school education. He began his spiritual journey in 1983 at First Pentecostal Church under the leadership of Suffragan Bishop David Eddings. It was at this ministry where he was baptized in Jesus' Name and filled with the Holy Spirit with the evidence of speaking in tongues as the Spirit gave utterance. After graduating high school in 1985 he felt called to serve his country and enlisted in the United State Marine Corps. It was while in the Marines that he felt the Lord leading him to serve the people of God as he was serving his country.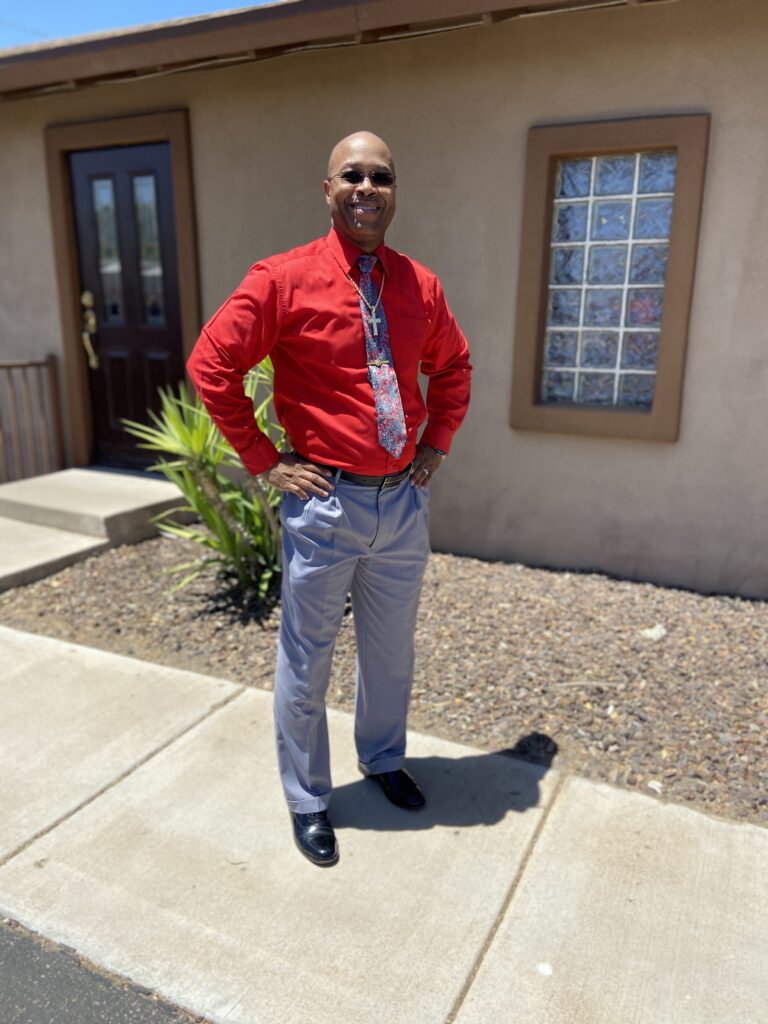 Then Minister Russell was called into ministry under Bishop Michael L. Shelby of God's House Church, Albuquerque, New Mexico where he served in varying capacities for several years. Minister Russell later received orders to Okinawa, Japan, where he founded the Pentecostal House of Praise. In 1998 he, now Pastor Russell, merged his ministry with Chaplin Brown which became Camp Kinser Gospel Service located on the base. Later that same year he accepted the charge to become the pastor of Bibleway Apostolic Church, also in Okinawa, for Bishop Jerelette Mickey.
Upon his return to the States and retiring from the Marine Corps, the mantle of Apostolic Grace Temple church was entrusted to Pastor Russell and his first wife, the late Lady Bonnie Jean Revels-Russell, by the late District Elder Alfred Revels Sr. It is here that he gladly serves the people of God and by His grace, has been "equipping the saints for spiritual warfare" for 23 plus years!
Pastor Russell holds a Bachelor of Arts in Business Management, a Master's in Education, and a Doctor of Ministry degree. He has worked in the public school system in Arizona as both an educator and track and field coach. He is licensed and ordained through the Pentecostal Assemblies of the World, Inc. and serves as the Executive Secretary of the Mountain States Council, 15th Episcopal District of the Pentecostal Assemblies of the World where is also a newly appointed District Elder.
Pastor Russell has three adult sons, Thomas, Jr. (TJ), Tyler, and Taylor born from the union of his late wife of 23 years. He was blessed by God to marry Lady Tahirih Erhabor-Russell in May of 2013 who also lost her husband of 20 years, and through this union, he is blessed with a bonus son, Emanuel, and a daughter, Ariel.
As a widower, husband, father, retired Marine, disabled veteran, and pastor, the truth of one of his favorite songs rings more and more true…Jesus is Real! And as Paul left these thoughts with the Philippians, District Elder Russell leaves these thoughts with you.
"Finally, brothers and sisters, whatever is true, whatever is noble, whatever is right, whatever is pure, whatever is lovely, whatever is admirable – if anything is excellent or praiseworthy—think about such things"

Philippians 4:8 NIV